You said, "YES!"
Now It's Time To Save-The-Date
---
Did you know that December and January are the most popular times of year to get engaged? And why not?! You're surrounded by family and friends. Everyone is in high spirits. The snow is falling, the lights are twinkling, champagne is popping, and with four little words your entire life is changed.
But now that you've texted, tweeted, snapped, grammed, and posted your favorite ring pictures, it's time to start thinking about the next step: getting your future guests in the loop!
Save-The-Dates are your "pre-invitation." It's your first chance to officially announce your date and location, and it lets your guests know you'd like them attend. This gives them time to make arrangements, take off work, book hotels, and share in your excitement. Once you make the decision to send out save-the-dates, you're going to have questions about timing, structure, and design. That's where we come in!
Here are three simple tips on achieving the perfect Save-The-Date for you and your husband-to-be.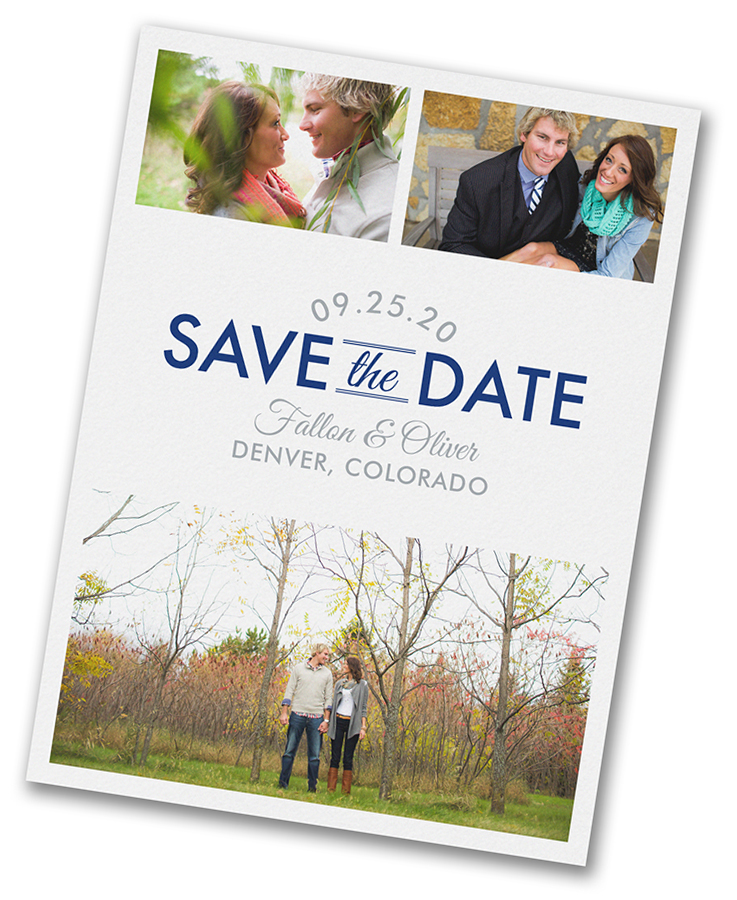 Tip 1: When To Send
You have your wedding date. Whether it's an intimate backyard wedding in June, a destination beach wedding in July, or a rustic autumn wedding in September, it's nice to give your guests plenty of time––but not too much––to begin making plans. As a rule of thumb, it's best to start spreading the word six to eight months prior to the ceremony. Any sooner and your save-the-date might not make it to the fridge. Any later and scheduling conflicts are bound to arise.
Tip 2: Who To Send To
Once it's out, you can't take it back. Make sure you only send a save-the-date to the people you definitely want to come. Even if that person is your mother––the first person you called to share the good news––it's still polite to send them an official announcement.
When addressing, we recommend including all the names of the invited guests to clear up any confusion. Simple things like "And Guest" or "Mr and Mrs John Doe" can let your family members know if they can bring a date or for adult only receptions, that their children are best left in someone else's care for the evening.
Tip 3: What To Send
It's okay to not know your venue or the time when mailing out save-the-dates. Simply include your guests' names, your wedding date, location (even if it's just the city and state), and a small notice that a formal invitation will follow.
---
Once you have your date, guest list, and location, it's time to think about design! From simple, elegant designs to themes like rustic, vintage, beach, and more, Party Harty has you covered. Browse our online catalogs or schedule an appointment to meet with designer Lisa Redino. With over twenty-eight years of experience in the industry, Lisa will help you create a design that captures your personality and sets the stage for your wedding theme. Contact Party Harty today to get started!
~Let us bring your wedding dreams to life~